The Holley Stick is designed for military EOD, Combat Engineer, and Infantry use. The kit consists of a series of  lightweight carbon fiber modular pole segments that connect together with no hand tools required to provide users with a stand-off distance (up to 9 feet) to deploy a variety of tools against a suspect IED. The system comes with a foam grip handle for easy grip (2-foot).
The system also comes with end effects including an adapter to interface with the EOD Hook & Line Kit and a folding adjustable blade specifically designed for the recovery of buried command wire associated with IEDs.
Telescoping pole (collapsed length 30-inches – extended 6′)

Scabbard Carry Case W/ molle strap webbing


Hook and Line Adapter

Foam Grip Handle (2 feet)

OHI-2000 Kit Contents:
Handle (2′ foam grip) – Qty 1
Telescoping Pole Segments (with connectors*) 6′ length – Qty 1
Sickle Blade Attachment – Qty 1
Hook & Line Kit Adapter – Qty 1
Softcase 36″ (Berry Compliant) – Qty 1
The OHI-2000 Holley Stick provides a 9 foot standoff when telescoping segment is fully extended.
*Patent Pending
Other Holley Stick Kits are available including the OHI-3000 (w/ modular and telescoping poles) and OHI-1000 (w/out telescoping poles). Note the OHI-2000 kit is a sub-set of the OHI-3000 kit (i.e., all parts are interchangeable).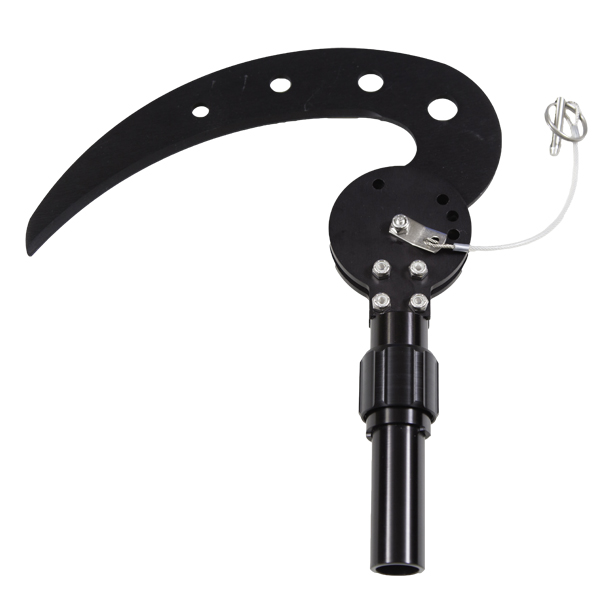 Blade Attachment
For pricing and availability, contact OHI's Client Relations Manager, Jenna Perman at (443) 522-2933 (Office) or (443) 857-7474 (cell) or email at jenna@ordnanceholdings.com