Products: Maps, charts, and figures for your proposals, work plans, reports, and deliverables
Standards: Compliant with DoD and service specific GIS data standards
Diverse Experience: AutoCAD, Autodesk Map, and Micro Station software applications
Custom Applications: GIS based databases and systems
Documentation: Technical specifications / deliverables
Our engineers and designers have direct experience developing maps, charts, and figures incorporating GIS into field projects to increase production and accuracy.
Explosives safety related analysis and mapping is a key specialty area for OHI – from developing exclusion zones to mapping fragmentation hazards to protect personnel and infrastructure.
Other experience includes GIS data management and building custom database applications to compile, query, present, and archive spatial data as well as GIS data management and converting files for compliance with DoD standards.
Download the fact sheet on OHI's Service Offerings for GIS/Mapping Services.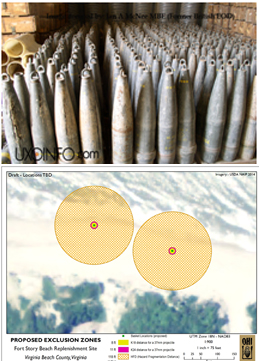 Explosives Safety Siting – Automated Siting Planning Tool – Port Hueneme, CA
OHI has been selected as a prime contractor to support the U.S. Naval Facilities Engineering Command Engineering Service Center (NFESC) Engineering and Expeditionary Warfare Center (EXWC) under contract N62583-12-R-0702 to provide Explosives Safety Siting Planning Field Support (ESSPFS) for the Explosive Safety Siting (ESS) tool and Automated Siting Planning Tool (ASPT). The scope requires OHI to provide explosives safety related training to DoD personnel in the setup and use of the ESS ASPT, transforming GIS and installation specific data into the proper formats, providing help desk-type support to various Navy and Marine Corps installations. The contract is a 3-year ID/IQ contract with a ceiling of $1M.