Full-Service Support: From avoidance through full scale remediation, OHI can support your UXO / MEC needs
Consulting Services: Providing subject matter expertise related to military munitions, UXO, and ranges
RCRA / CERCLA Expertise: Our team understands how to execute removal and remedial actions at UXO sites and interfacing with stakeholder and regulators
Operational Range Clearance: Clearing ranges for continued use and sustainability
MPPEH / Range Scrap Processing: Safely inspecting and disposing of range and munitions related debris
MMRP Support: PAs, SI, RI/FS, Removal Actions (TCRA and Non-TCRA), remedial actions through Decision Documents and Site Closeout
Munitions Constituents: Sampling and characterization of MC on ranges and MMRP sites including developing detailed risk assessments
OHI specializes in providing technical consulting support in our areas of expertise including providing consultation related to the assessment and remediation of former military training ranges.
OHI's staff has experience managing and supporting operational range related projects including range assessments and range clearance efforts and MMRP projects including: Preliminary Assessments (PAs), Historical Records Reviews (HRRs), Site Inspections (SIs), Comprehensive Site Evaluations (CSEs), Engineering Evaluation and Cost Analysis (EE/CAs), Remedial Investigations and Feasibility Studies (RI/FSs), and munitions removal actions.
Offering full-service support from avoidance / construction support through full-scale remediation / clearance, OHI has the expertise and staff to ensure safe and proper disposal of UXO/MEC and related hazards.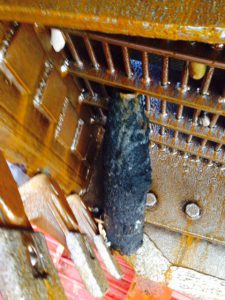 Image of 5-inch round recovered from dredge draghead.
Joint Expeditionary Base Fort Story – UXO Services
OHI served as the on-site unexploded ordnance (UXO) contractor to the shore protection system beach replenishment project at Joint Expeditionary Base (JEB) Fort Story – Virginia Beach, VA. The project was sponsored by Naval Facilities Engineering Command (NAVFAC) MIDLANT.
OHI's scope included:
Developing all work and safety plans related to UXO support
Conducting in-field verification and inspection of methodologies and engineering controls to reduce the potential for UXO to be caught in the dredge draghead and pumping system
Providing on-site around-the-clock UXO Technician field support during dredging operations
Handling / processing of Munitions and Explosives of Concern (MEC) and Material Potentially Presenting an Explosive Hazard (MPPEH) recovered during dredging operations
Developing a final technical after action report for the UXO / explosive operations